Getting married in Tuscany: 7 unforgettable venues
It is certainly not a secret: getting married in Italy is a dream for many foreign couples. The beauty of the landscape, the lure of art and history, the almost infinite possibilities of exclusive and refined location are irresistible calls for those who want to turn their wedding into a daydream.
But it's not just the "famous people" to choose the beautiful country as a theater of their own love: every year thousands of fiancés arrive within the national borders bringing along friends and family to celebrate wedding and honeymoon in one fell swoop. Of these, nearly 50% choose Tuscany as their destination.
Tuscany, in fact, has all that those who dream to get married in our country search for : culture, good food, stunning scenery and some of the most exclusive and romantic settings in the world. If you've always wanted to exchange your vows of love with Brunelleschi's dome in the background, sipping a welcome drink on a terrace overlooking the boundless hills of the Chianti, or gait in your wedding march under the flower arch of a Renaissance house, it's your time. And if you believe that your imagination runs too fast and that what you dream is a bit too much, be prepared to think again … sometimes reality can be far greater than imagination!
What follows are seven beautiful places that will steal your heart, seven jewels chosen with care so that you can have the special day you have always wanted. Seven unforgettable venues for your wedding in Tuscany.
VINCIGLIATA CASTLE in FIESOLE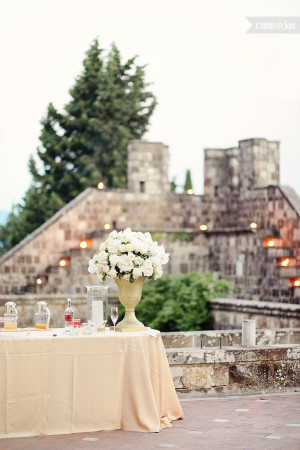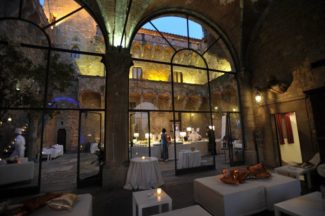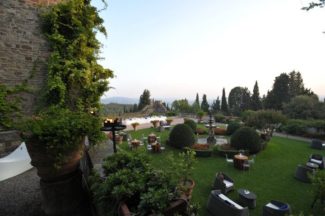 The origins of this castle nestled in the hills of Florence date back to the eleventh century. After being lost to the game several times changing hands between the leading families of Florence, it was noted in the nineteenth century by an English lord, who decided to restore it and return it to its former beauty. The castle offers its guests a terrace for a welcome cocktail with panoramic views over the city and the Florentine hills, a garden for cocktails and night dancing, halls with furniture and frescoes of the '500, a charming courtyard where to serve dinner in the magical atmosphere of candles, torches and a sky full of stars. In case of inclement weather, the lodge can hold up to 300 people.
Where: Fiesole (Florence).
Type of location: medieval castle.
For whom: those who dream of an old fashioned wedding, romantic and scenic.
Distinguishing features: As any self-respecting castle, also the one of Vincigliata has its own legend. It is said that the ghost of a girl, who died of a broken heart after the death of her beloved, hovers in the castle protecting all loves, especially the most contrasted.
See also… "A Castle for Weddings in Fiesole (Florence)".
HOTEL VILLA CORA (FLORENCE)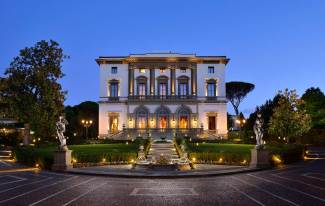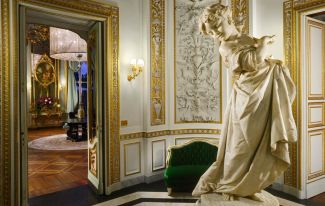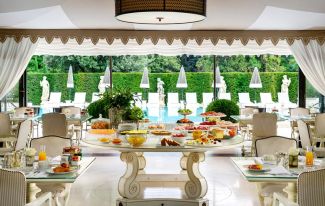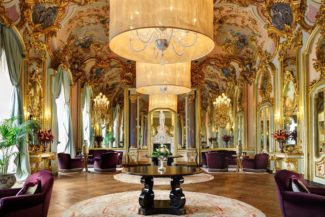 This beautiful residence, turned into a high level city resort, is considered the " grand dame of the south hill of Florence". Nestled in a beautiful park and surrounded by woods of plane trees, it is a short walk from the Boboli Gardens and the Oltrarno. Yet the beauty of the external environment could almost pale in comparison with the internal one, where the suites and rooms are stealing the show at one another with original frescoes, antique furniture and details that make each room (46 in all) a small work of art. The inner halls, the hall of mirrors and the Moorish room, will remain in the eyes and memories of the guests, who can relax at the end of the evening in the smoking room sipping spirits and cigars, or pamper themselves in the spa, choosing from four treatment rooms, a small gym, tepidarium, sauna and hammam.
Where: Florence.
Type of location: nineteenth-century dwelling.
For whom: those who dream of an exclusive and luxurious wedding in a five-star resort.
Distinguishing features: The hall of mirrors, furnished with original baroque decorations, is considered the most elegant ballroom in the city of Florence.
ANTICA FATTORIA DI PATERNO (CHIANTI)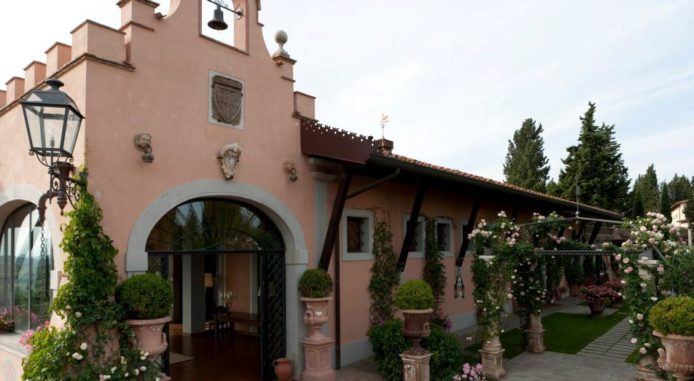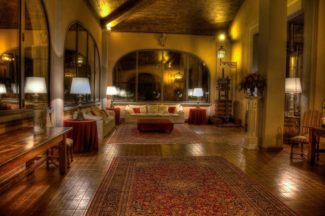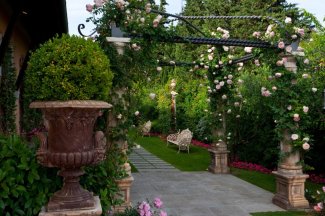 Protected by the lush nature of the hills of Chianti and a seventeenth-century tower, this old manor house has a panoramic terrace overlooking an endless expanse of olive groves and vineyards, providing a view that you will not easily forget. This detail would be enough to fall madly in love with it, but Fattoria Paterno has many other arrows to its bow: the private square of the Jubilee, a garden terrace where you can admire unforgettable Tuscan sunsets, sophisticated interior where mirrors are open to one another, creating a unique magical space that can accommodate more than 200 people. Here nothing is left to chance, every detail is sought after with meticulously attention and who was there swears that no photo will ever do justice to this fabulous place. But there is one last detail that really takes the breath away in every future wife: the avenue with the flowered arch where the bride can make her princely entrance.
Where: Montespertoli (Florence).
Type of location: seventeenth century villa.
For whom: those who dream of a wedding immersed in the stylish and elegant '600 atmosphere.
Distinguishing features: At a 5-minute drive from the villa there is a lovely village with apartments. Possibility of civil wedding in a dedicated room.
BORGO STOMENNANO (SIENA)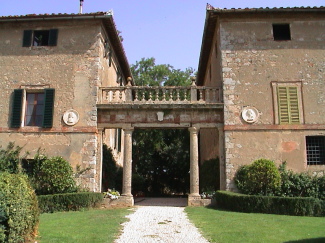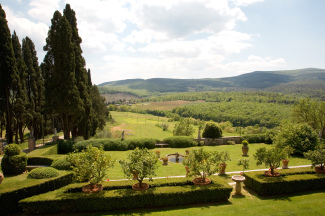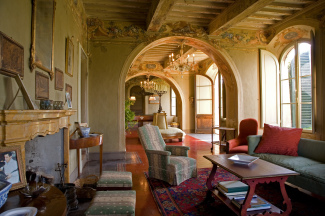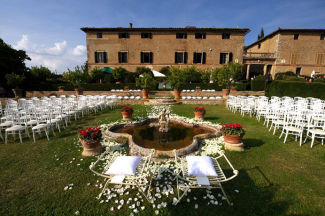 This ancient village nestled in the countryside of Siena is composed of two main buildings, the main house of the '700 and the old barn, and several houses divided into apartments.
Do you know Bertolucci's movie "Stealing Beauty"? Here is the environment that will be the backdrop to your wedding: forests, vineyards and olive groves as far as the eye can see, the unforgettable colors that nature assumes at sunset, the quiet of the evening, the sky that becomes a blanket of stars. The park in front of the villa with its unforgettable view will be the perfect location for an intimate ceremony, romantic and charming, the large infinity pool is perfect for the cocktail reception, dinner, but also for a party based on dances, laughs and, why not, a few more drinks, since it offers the possibility to sleep on site. The apartments, beautiful and cared for, are all different and characterized by very specific details: a small private library, a sofa facing the fireplace, a private garden.
Where: Monteriggioni (Siena).
Type of location: Village of the thirteenth century.
For whom: those who dream of a country and casual wedding atmosphere without sacrificing style and elegance.
Distinguishing features: Own production of wine and oil.
!