6 reasons to plan an Outdoor Wedding… in Tuscany
The outdoor wedding is becoming increasingly popular in Italy, and Tuscany, with its vineyards and olive groves that caress the horizon, the cities rich in art and history, the small medieval villages that ignite at sunset and corners of rare beauty that contend the scene to one another, offers some of the most beautiful locations for an outdoor reception.
Who has not ever dreamed of being the protagonist of one of those weddings where he and she, after many tribulations, look tenderly into each other's eyes and finally utter the fateful "Yes" on a pristine beach or in the lush  nature of a garden?
The outdoor wedding is an increasingly popular choice in Italy, in the wake of the thousands of foreign couples who come every year to our country to get married and of the almost infinite availability of places that seem born on purpose to seal a great love .
Obviously , there is the uncertainty of the weather , but apart from the fact that a bit of unpredictability is part of the charm of life, our locations almost always have spacious interiors where to move into  in case of  bad weather, and if this were not  possible you could  always make up with large, elegant outdoor tents in perfect American style.
The other difficulty that you could  experience in organizing an outdoor wedding is the Italian legislation, which often makes it difficult to get  married with religious or civil rite in external contexts. Even though this is a false problem. First, there is no rule without exceptions, and believe me, in  finding the exceptions I have a special talent, and then there is always the opportunity to associate a traditional wedding with a symbolic ceremony where you can finally give vent to every hidden desire.
Once these "obstacles" are solved, remains little to say, because in terms of charm an outdoor reception really is unrivaled. But if you are still not entirely convinced, if you still waver between a reassuringly traditional indoor wedding and a more eclectic and modern outdoor ceremony, here are, based on my experience as wedding planner , the main reasons why you should seriously consider the idea of an outdoor wedding in Tuscany.
 1  You can choose among unique locations in the world
If you came on this site I'm not telling  you anything new: Italy is a unique collage of extraordinary locations able to turn without effort every wedding in a daydream. Among  these, some of the most beautiful and suggestive are in Tuscany. The enchanting and poignant  view on the Valley of Chianti, the geometries of the picturesque rows of vines and olive groves of the Siena countryside, the Renaissance masterpieces of Florence, the medieval  corners in Lucca, the small villages whose origins are lost in time: you 're nothing but spoiled for choice.
Whatever location you'll choose you'll win a frame that would make any Hollywood star  shake with envy, let alone friends and family.
 2  You can count on a natural setting worthy of an Oscar
There is nothing more impressive and choreographic than a wedding in the middle of nature and  our locations are a natural scenery in the open air. The scent and colors of the flowers, the birds singing, the sunset that sweeps the landscape in the background: every element that makes a wedding an unforgettable event is already there at your disposal , natural, without any effort. And free from the stress of what flowers to choose and how to organize the accommodation of the guests, as they will be so captivated by the beauty of the place that they won't care at all about who's sitting next to them, your imagination can wander and focus on the subtleties: candles and wires of lights positioned on purpose to make the atmosphere of the dinner even more magical under the stars or the aperitif by the pool, large and soft cushions to enhance the already intimate environment of an inner courtyard, refined and original place cards for a touch of elegance on the tables, a fine selection of lounge music in the background.
3    You can customize your wedding
The watchword is: freedom. No more limitations of days, timing, decorations and dress code that often indoor locations dictate. If you decide to get married outdoors , you can shape in every little detail your perfect day, giving yourself the wedding you've always dreamed of.
Although some locations are in high demand and therefore an in time organization is needed, you will generally have much more freedom than that granted by a traditional wedding. First , what time of the year: Tuscany enjoys an enviable climate and offers a wide time parenthesis within which to establish the date of the wedding.  Also, freedom  to create a tailored wedding that reflects your personality in depth: a castle for a romantic and charming wedding  (Castle Vincigliata) , a villa set in a bucolic landscape for a ceremony that smells of fine art and history  a charming farmhouse  Villa on the chianti Hills and a touch of poetry and romance. [Rustic Villa in San Gimignano],   
Total freedom, in the end, also for dresses, hairstyle, music and decorations. In an outdoor wedding the only boundary will be the one dictated by your fantasy.
4 Your photo album will be memorable
Not even the most exclusive hall recorded by the lens of the most skilled photographer could ever compete with a well-tended garden surrounded by olive trees and decorated with roses and butterflies in the spotlight of a Tuscan sunset. Natural light will kiss on the forehead spouses and guests, will bring forth smiles, movements and light games, turn every detail in a living picture that later you can gaze at any time you want.
Photos are the real memory of a wedding and a good photo shoot is as important as the dress of the bride, if not more. The natural scenery of an Italian garden, a terrace overlooking the hills swollen  of sunflowers or on the artistic and architectural beauties that have made Tuscany famous all over the world, will make memorable your photo album.
You may also decide to do the opposite and choose the location based on the type of photo shoot that you would like: a castle for an insured dramatic effect, a medieval village for a timeless atmosphere, a farmhouse on  the top of a hill for a bucolic choreography of poignant romance.
5  You can choose to have the ceremony and the reception in the same location
If you opt for a symbolic ceremony , you can do it all in the same location: welcome of guests, exchange of promises, reception and often also the staying, turning your wedding into a true all-inclusive holiday for friends and relatives. Some locations allow, in addition to the symbolic ceremony, also to celebrate the civil ceremony. This possibility will greatly simplify the logistics of your wedding and the moving of the guests, who in most cases will just have to walk a few steps between a chat and a sip of wine to leave the place of the celebration and reach that of the reception.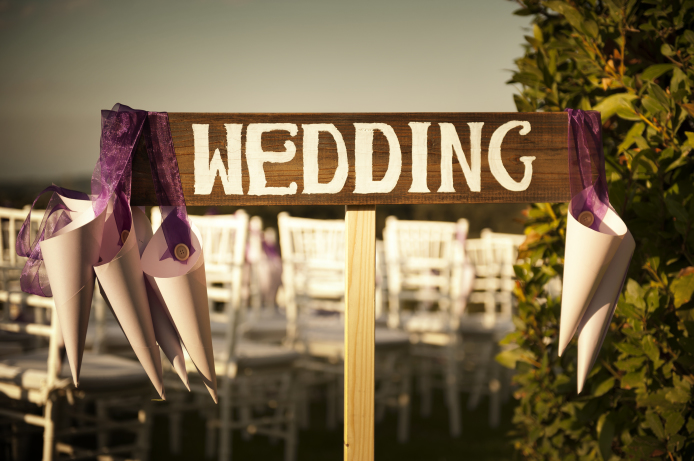 6  You will give your guests an unforgettable experience
Your guests will return home from your wedding with more than a handful of sugared almonds and a favor to put on the mantelpiece: they will bring with themselves the memory of a magical and original event that they will hardly forget.
Our locations will leave your guests breathless, not only during the celebration of the rite, but for all the moments that will surround it. The facilities we offer  are in fact the best that Tuscany today is able to offer in terms of harmonious union between antiquity and modernity, tradition and comfort: spa and swimming pools, saunas and hot tubs, unique and delicious products, rooms and suites where nothing is left to chance and every detail helps to ensure a memorable staying .
 
And you, what kind of wedding do you prefer, indoors or outdoors?
Whatever you decide, remember that your wedding day is your day, the perfect opportunity to finally realize what you've always dreamed of. I became a wedding planner because I firmly believe that dreams not only can be achieved, but they must be realized.
Tell me yours and I'll help you make it reality.