Wedding on the beach in Versilia
Versilia, which is on the Tuscan coast and very close to Lucca, is one of the most famous and captivating areas of the entire region. For years the beaches in Forte dei Marmi, identified as "The Pearl of Versilia", have held the title of the most exclusive and glamorous area. Who has never heard of the famous venue "La Capannina", a meeting place very hip among the VIPs? And what about the "Bussola" in Marina di Pietrasanta, a historic venue where the best singers of Italian music have done shows during the years? Not to forget the city of Viareggio, renowned around the world for its Carnival masquerade!
Forte dei Marmi, Marina di Pietrasanta and Viareggio are some of the best locations for those who long to celebrate their wedding on the beach. Think about it… two newlyweds who walk hand in hand on the beach, among lights reflected by the waves, the breeze flowing through their hair, the exciting smell of the sea and the soft warmth of the sun's rays at sunset. Yes, this is the dream of many young couples: to celebrate the most beautiful day of their lives in a unique and magic place… the beach and the sea,   joined by love and by the desire to fulfill their dream in an original and exclusive location.
Celebrating the ceremony at sunset, catching the magic that only the sea and summer nights  are able to recreate, is surely of great impact. Soft music as background, candles, candid flowers, comfortable cushions and organdie curtains will create a relaxed, warm and cozy night.
THE CEREMONY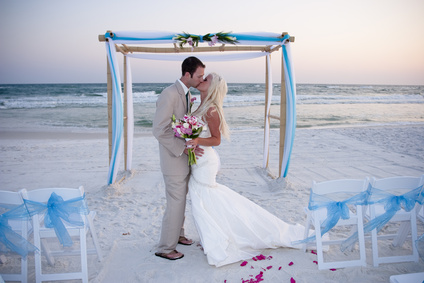 It is not possible to celebrate a religious and civil wedding on the beach. I suggest that you first get married with civil or Catholic rites, with the best men, bridesmaids and maybe a few close friends… and later, in the evening, on the seashore, you can exchange your everlasting love promises with a symbolic suggestive ceremony  in front of all your relatives and friends. It will be beautiful and unforgettable!
BEAUTIFUL LOCATION IN FORTE DEI MARMI
Beautiful and exclusive beach resort in the heart of Forte dei Marmi. Furnished with wood and with the shades of white and cream. It has a very good  inner restaurant  that overlooks a wide relaxation area with swimming pool.